Chief Operating Officer/Chief Nursing Officer
Catalina Island Medical Center
Catalina Island Medical Center is the result of more than a century of evolving medical care on Santa Catalina Island. Although it is one of the smallest hospitals in the state (12 beds), due to its unique island location it historically has provided many of the health services typically found only at larger facilities. It serves its patients through a truly integrated healthcare delivery system consisting of physician offices, an acute care hospital and skilled nursing services along with its extensive outpatient programs. In 2010, Catalina Island Medical Center began the transformation to electronic medical records, creating a state-of-the-art comprehensive healthcare information system.
• 102 full and part time employees
• Annual revenues of $21.5 million
• Stand-alone, 501c3 non-profit organization
• Owned and operated by self-perpetuating board of directors – Avalon Medical Development Corporation
After nearly 60 years in its current building, the Catalina Island Medical Center is working toward securing a new facility to ensure the future of quality medical care for everyone on Catalina Island, now and in the future. Unless compliance with the new earthquake safety requirements by 2030 is met, the Medical Center will close.
 
The small hospital that opened in 1960 is now serving a population of over 4,500 residents and 1 million visitors every year – more than four times the number it was built to serve almost 60 years ago! New facilities are sorely needed to serve the current needs of the community, and the loss of the island hospital could result in a catastrophic loss of tourism revenue for local businesses.
 
The current facility is significantly undersized to serve the current patient care demand and has insufficient space to be able to meet the needs of the forecast visitor growth. The facility's size and configuration cannot accommodate modern and expanded programs of care, prevention, health, and wellness that the community needs.
 
In spring of 2019, it was announced that the Catalina Island Company would be donating the land necessary to build a new hospital. This donation of 2.5 acres of land near Quail Canyon will make it possible to secure the future of healthcare on the island for decades to come. The Foundation is now charged with raising the funds to begin the project.
 
The new hospital will provide many additional services not currently offered on the island, such as chemotherapy for those undergoing cancer treatment who currently have to travel back and forth to the mainland to receive such care. The new medical center will have private rooms, an operating room, infusion therapy, a fitness facility, digital mammography, and more – enhancing care for residents and visitors alike.
 
The project would call for the hospital to raise $20 million, have a $60 million bond issue and use a $1 per person cross channel fee to finance remaining payments on the bond. The initial projected a cost of the new medical center is $60 million, but this cost will vary and could increase due to inflation.
 
The USDA is very supportive of rural hospitals and has established a financing program for the replacement of aging hospitals. If the ballot measure is passed, CIMC will engage the USDA and plan to participate in its low-interest financing program. Artist's concept of new medical center.
About Catalina Island Medical Center (Click Here)
CIMC Future Hospital Plans (Click Here)
Catalina Island Medical Center Fundraising - Stoked on Fishing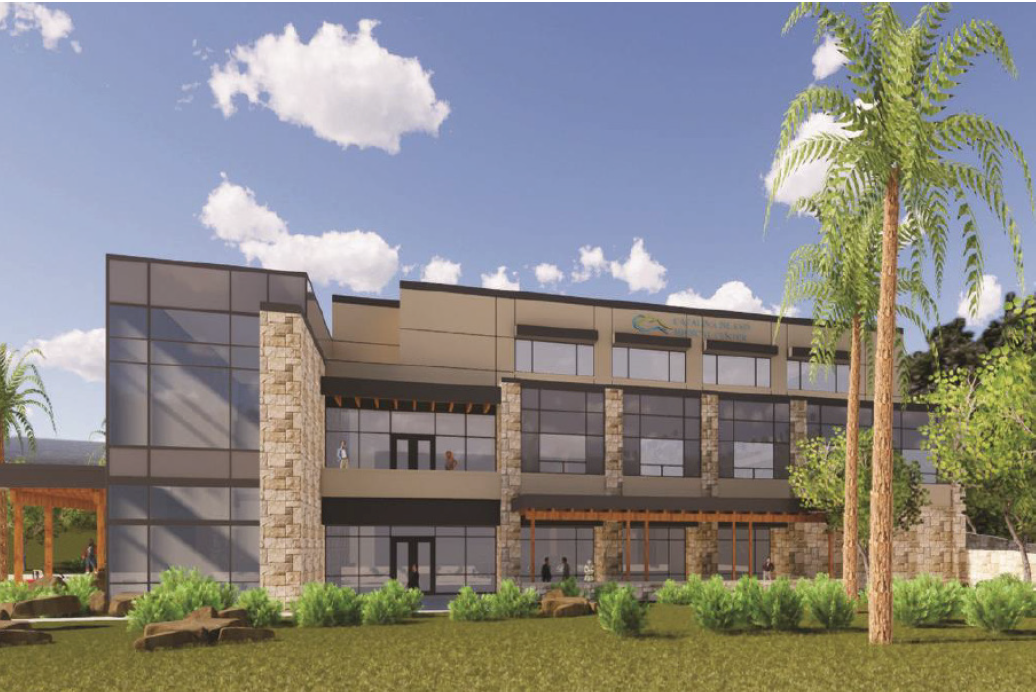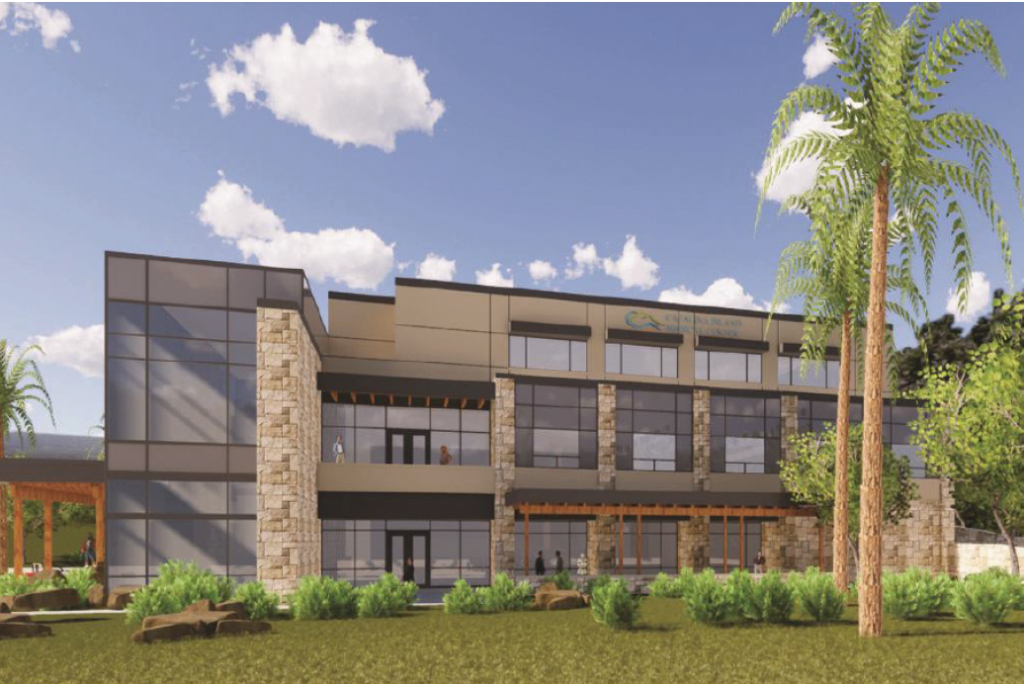 Chief Operating Officer/Chief Nursing Officer
The Chief Operating Officer/Chief Nursing Officer (COO/CNO) is responsible for developing, planning, coordinating and administering nursing and ancillary services within the medical center. Under direction of the CEO, this individual performs routine daily operating procedures and other duties as assigned, and is an integral part of the management / administrative team. The COO/CNO participates in planning, policy and procedure formulation and execution, and has the responsibility to organize, coordinate, and evaluate the functions of numerous departments, ensuring that patient care is performed in an effective, caring manner, and practices conform with licensing and accrediting agencies. The COO/CNO exemplifies professional standards for Hospital Staff.
 
DUTIES AND RESPONSIBILITIES (INCLUDE, BUT NOT LIMITED TO):
• Provides administrative support to all personnel which report to this position
• Assesses compliance with current Policy and Procedures, adherence to productivity standards and budgetary projections
• Keeps staff updated / informed on an ongoing basis of any changes in hospital policies, encourages input / participation from all personnel into development of CQI indicators, Policy and Procedures changes and suggestions for improvement
• Responsible for development of policies and procedures which focus on the optimum operations of each department, provides in-service education / orientation to personnel, schedules and attends meetings with departments
• Provides annual performance evaluations, directs, motivates, counsels staff in the performance of professional responsibilities, provides for educational opportunities, selects, romotes and participates in audits / studies
• Attends Board of Director meetings, participates in revision of policies and procedures, assists in establishing criteria for recruitment / retention
• Selects, promotes and terminates personnel
• Determines, recommends and periodically evaluates departmental budgets
• Participates in meetings of committees, collaborates with administration, medical staff and other departments in coordination of care / services to patients, participates in assessment of community health care resources, assumes responsibilities for the facility in the absence of the CEO, maintains CQI
• Observes safety precautions, ability to function as nursing staff in Acute, Emergency and SNF departments
• Performs other duties as assigned. Serve as active manager of the departments in the absence of a manager
 
Ancillary Duties:
• Nursing Department,
• Radiology Department
• Manager, Therapy Services
• Manager, Dietary Services
• Manager, Laboratory Services
• Manager, Medical Group Office
• Coordinator, Home Health
• Coordinator, Infection Control and Staff Development
• Coordinator, Disaster Program
• Pharmacy Services
Areas of accountability also include oversight of programs within Patient Care Services including:
• Risk Management
• Transportation and housing of clinical staff
• Bachelor's Degree in Nursing preferred with a minimum of two years' experience in nursing management as a director or assistant director in the acute or SNF hospital setting with completion of some nursing administrative duties.
• Master's degree in related field preferred.
• Progressively responsible administrative experience in major healthcare institutions, preferably in an acute care setting.
• Possession of a valid license as a Registered Nurse in the State of California. Possession of a Professional CPR, ACLS and PALS certification (or willingness to obtain within six months of hire).
• Knowledge of: Title 22, OBRA Regulations, Health and Safety Code, Cal OSHA Regulations and legislation regarding impact on personnel and departments and health care institutions in general.
• Critical Access Hospital experience strongly preferred.
• Ability to understand and ensure compliance with State of California surveyprocess.
• Knowledge of hospital procedures and record keeping requirements.
• Competency in Nursing practice and management.
Located just 22 miles off Southern California's coast, Catalina Island welcomes visitors year 'round and is California's only island resort. Getting to the island is easy with travel time as little as 15 minutes by air or one hour by boat from the mainland.
 
The Catalina Island Conservancy operates a non-profit land trust that manages 88% of the island as a preserve. Wildlife viewing, hiking and camping are the top reasons to visit the island's "interior." Catalina boasts a year 'round Mediterranean climate with warm, sunny days and cool evening breezes. Summer temperatures average 75 degrees, while winter temperatures average 65 degrees. The sun shines an average of 267 days a year. Average rainfall is 12 inches per year. Catalina weather is best in spring and fall. Summer days can be overcast until noon or later. In winter, storms can make the ferry ride unbearably choppy.
 
Avalon is the only incorporated city on Santa Catalina Island of the California Channel Islands, and the southernmost city in Los Angeles County. The city is a resort community with the waterfront dominated by tourism-oriented businesses. It's busiest during summer and during big events like the marathon and jazz festival.
 
Avalon hosts all the amenities of a larger city for residents to rely upon, while the village of Two Harbors offers a boater's paradise and quiet escape from the crowds with easy access to camping and wildlife. While in Avalon, visitors enjoy many activities such as swimming, scuba diving, snorkeling, kayaking, fishing, golfing, hiking, biking, zip lining, shopping, strolling the museum and art galleries, a day at a spa, guided sightseeing tours or renting golf carts to explore the city on their own.
For the selected candidate, a complete and competitive compensation package will be offered which includes salary, major insurances, PTO, retirement, and housing stipend.
Send resume or nominations to:
Mark Lukacs
707-837-2741
Email Mark
Greg Rokos
714-406-1989
Email Greg
The Rokos Group
3050 Pullman Street
Costa Mesa, CA 92626
SCHEDULE A BRIEF CONSULTATION